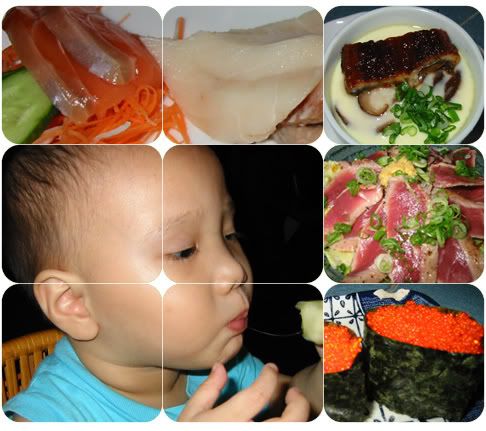 Last Saturday, just as I was about to start cooking, an electricity outage happened. I thought the electricity would come back on after 30 minutes, but when it was already noon and there was still no sign of it, we decided to go out for lunch instead. A few days ago, while chatting with Hooi Ling, she recommended a Japanese restaurant in town on Chow Thye Rd named Isaribi. And since we have not had Japanese food as a family for a long time now, we headed that way.
The place was not hard to find and the entrance looked very calm and serene, what with the lush greenery in the porch area. We ordered the king sashimi set (which was not as king-sized as we imagined :P), the semi-grilled beef slices (awesome flavor, taken with chopped ginger and some unidentifiable sauce), and of course, chawan mushi for Ethan. They only had prawn and unagi chawan mushi though, and it costs RM10 per bowl! Took them mighty long to serve the chawan mushi as well… we thought it would be spectacularly good, but it was rather bland. Nevertheless, Ethan gulped down the chawan mushi and even pinched a bit of the shredded carrot and radish from the sashimi set. Oh and because it took them so long to serve our food, Ethan boy got impatient and decided to roam and explore the restaurant instead.
When we were done with our sets, either the servings were not big enough or we were immensely hungry that day, for we decided to order a salmon skin temaki, ebikko (fish roe) and as an after-thought, the cold soba too. The salmon skin roll was one the best we had ever tasted: crunchy and ohsogood with wasabi. And when Ethan saw the soba, he demanded to have some too, which was a surprise to me because I hadn't expected him to like it. He really enjoyed eating each and every strand, slurping away like a pro! Didn't manage to take a picture of him doing that because just as I was ready to snap a photo, we were served some fruits and Ethan decided he would like to have those instead. In the end, he gobbled down a piece of honeydew all on his own.
All in all, a good healthy Japanese lunch, but only if you have all the time in the world to spare… know what I mean?