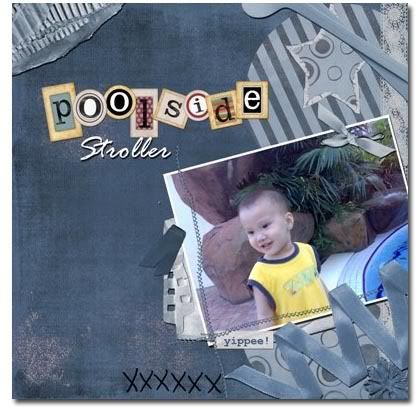 Scrap Credits
Kit Jules from Kawouette
Doodles: Doodle Me Big from Mikkel Paige Originals
Netter's Alphas from Scarlet Heels
It all began one fine Sunday about two weeks ago. After a yummy homecooked dinner, Daddy decided to take Ethan downstairs for an evening walk round out apartment compound. It was a great idea because then Mommy could have some time to wash up and have a quick shower undisturbed.
The bonding session between Daddy and Ethan went really well indeed. When they got back, Daddy reported that Ethan happily ran two rounds round the swimming pool, giggled happily when he saw a doggie playing and had good fun during the evening walk.
Ever since that day, whenever we get back home to our apartment and reach our apartment lobby area, Ethan would eagerly run towards the poolside. He would lead me down the steps to the pool and joyfully run around the pool. He loves to walk on the drain gutter covers though, and he would sometimes stop and smile as he looked at the water in the pool. Last Sunday evening, he decided that in addition to walking around both the adult and children's pool, he wanted to go across the little bridge too!
It sure appears that Ethan does not only love swimming in the pool, he loves walking round it too. And to think this all happened with a innocent evening walk 🙂