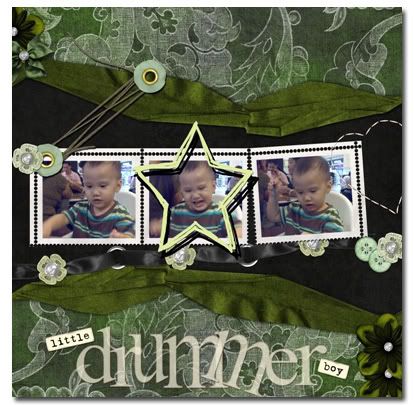 Scrap Credits
Close knit-sampler from Kim B's Designs
Stitched heart and Stamp Cluster from Lindsay Jane Designs
Star doodle: Doodle Me Big from Mikkel Paige Originals
Into the Mystic embellishments from Wenchd Grafix
Boxed words from Chantal
Sweet Serenity Alphas from Shabby Princess Designs
Here's another parenting tip I have learnt.  Toddlers ADORE chopsticks.  Okay, I know they might poke themselves in the eyes with it, but when push comes to shove, we just gotta let them play, be themselves and well…. just keep a watchful eye.  Anyway, a few days ago we were having our family dinner in Old Town and Ethan suddenly decided he wanted to stand up in his high chair and wouldn't sit still.
After a bit of struggling, I offered him my pair of chopsticks, and he eagerly took them, proceeding to *play* on the table.  It really looked like a professional jamming session, I tell ya.  Check out the intensity on his face as he plays to the rhythm.  It's no wonder he enjoys Baby Einstein's Meet the Orchestra so much, yes… especially the Percussion section.