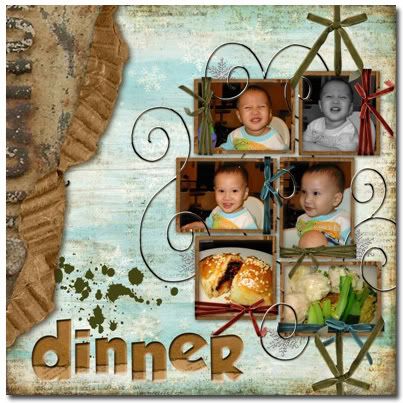 Scrap Credits
Wild Flower Holiday Quickpage from Gina Huff
Rough & Tumble Add On elements & alphas from Flergs
A few months ago when I called my girlfriend Audrey, she told me that every Saturday her almost-4-year-old daughter and her indulged in a mother-and-daughter bonding session.  They would go to a nearby mall in the morning, do some grocery shopping, and then have lunch together.  When I told Pete about this, I expressed how I longed for a similar experience with Ethan… well, that experience might not be too far off…
Yesterday evening, Pete had dinner plans with his colleagues.  So I had two options: one was to have dinner myself first and then pick Ethan up from the sitter's, or two: to pick him up and hop on over to Queensbay Mall for dinner, per our usual Friday routine. 
I opted for the latter.
I was working from home yesterday, so I left our house around 6:15p.m. for Mrs Tan's place.  Ethan was very excited to see me, even to the extent of refusing to allow Mrs Tan to carry him to the car, preferring to stick to me like a koala bear.  Surprisingly though, although he looked happy and recognized the route to the mall, no excited panting accompanied his joy.  Nevertheless we arrived and I was happy that there were plenty of parking lots available.
After reading about Susan and little Samuel's pleasant dining experience at Wong Kok Kitchen last week, and since we have never tried the food there, I thought we might as well give it a shot.  The restaurant was not packed and we were promptly seated, with Ethan of course occupying a very familiar Ikea white and silver high chair.  I ordered the wanton mee and the char-siew pastry puff: stuff I figured Ethan would like to eat too. 
He seemed very happy in the restaurant, even kicking his legs in rhythm to the music being played.  With his cheeky smile and strategically positioned high chair (he was facing the counter area), it didn't take long for him to command the attention of the servers at the restaurant.  I was rather astonished that he didn't scream loudly in protest when they all started looking and smiling at him, instead he smiled back, well sometimes he showed his cheeky toothy grin… and when he was too overwhelmed, he lowered his head and peered shyly at them.  He did take a few spoonfuls of the mee too, but not the pastry.
Overall, it was a fun experience for both Mommy and Ethan. He was at his bestest behaviour and I was very proud of him …actually, the first time I'd taken him out for a meal myself 🙂  Pete was a tad concerned if I would be able to handle Ethan on my own in the mall, but his fears were unfounded because Ethan is always in a good mood in the mall… and that just makes everything so much easier…
After dinner, we went for a walk to Borders to get a copy of January's Malaysian Women's Weekly… here's why…
What a fabulous way to start our weekend, eh?