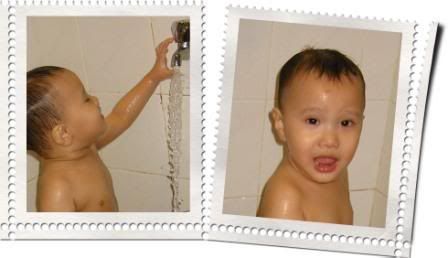 Ethan now prefers Mommy to give him his shower. Only when I am nowhere to be seen does he allow Daddy to shower for him. Sometimes when Pete attempts to give him a shower, he will vehemently push Pete OUT of the shower stall and ask for Mommy instead. I use the following shower ritual when I bathe Ethan.
"Ethan, come take your shower!"
Saying "Hands up!" will prompt Ethan to raise his arms high in the air so that I can remove his shirt. Then I say "Pants down!" followed by "Diaper off!"
1. With the use of the shower nozzle, wet his head and body.  Sometimes he would run and hide behind me in an attempt to escape the shower, but this does not happen often.
2. Apply Baby Sebamed on the face and shampoo on the head.
3. Shower to rinse off (thrice) soap suds.  Ethan will brush the water off his face vigorously while blowing loudly with his mouth.
4. Apply Baby Sebamed on entire body, lift one foot to wash the soles and then the other. 
5. Rinse off suds.  At times, Ethan will raise one leg at a time and rinse off the soap on his own with the running tap water.
6. Allow Ethan to play with tap water for a few minutes.  This is his favorite part of the session.  I normally end up wet all over, because our boy loves to splash the water everywhere.  And he loves turning the tap on and off; when it is on, it is normally at full blast.
7. Dry up and wrap up with towel.
8. Lift Ethan high enough for him to *turn off* the shower and *turn down the temperature* on the shower.
9. Give Ethan his tootbrush with a glass of tap water. Ethan loves to dip his toothbrush into the water repeatedly. Lately I am pleased to note that he loves to *brush* his teeth with the toothbrush. Well, not brush…but more like bite and suck on the bristles. Well, it's good progress I would say.  Better than nothing la.
10. Change into pajamas or going out clothes.
Last night after he finished his shower, he didn't even bother waiting for me to wrap him up and carry him out of the bathroom, as is our usual routine. Our boy independently walked out of the shower stall, climbed a step up and out of the bathroom and pranced around in his birthday suit in the living room!