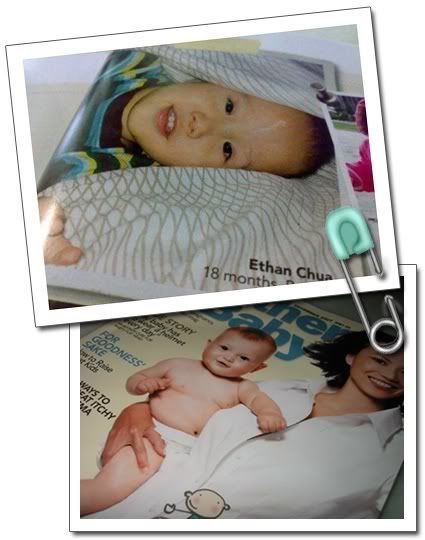 Two Saturdays ago, I received an SMS from Paik Ling who informed me that Ethan's photo had appeared in the December issue of the Mother & Baby magazine.  Naturally I was filled with pride like any mother would and I was also anxious to get myself a copy, because I wanted to know which photo of his had been selected.  That weekend, I scoured every bookstore I came across in Penang, but unfortunately the December issue was not available yet.  The Klang Valley stores usually get their stock way faster than Penang's, so I was resigned to wait a few more days because the magazine was still not available even on Monday.
Then on Friday, Jojo's mommy IMed me to congratulate me because she spotted Ethan's picture in the mag.  Apparently she had just bought her copy that very same day from a bookstore in Queensbay Mall.  I was excited because I would finally be able to get a copy that evening too, since that's where we normally will have dinner Friday nights.
So immediately after dinner, we stopped at Borders to get ourselves a copy.  This is the first time Ethan's photo has appeared in a magazine although I have been dilligently submitting his photos off and on.  I am so very proud of him 🙂  Hopefully this will be the first of many many more to come!
Turns out that Jojo's mommy had a good reason to buy this month's magazine too, because one of Jojo's picture had been chosen as well!  Congratulations Jojo! 🙂