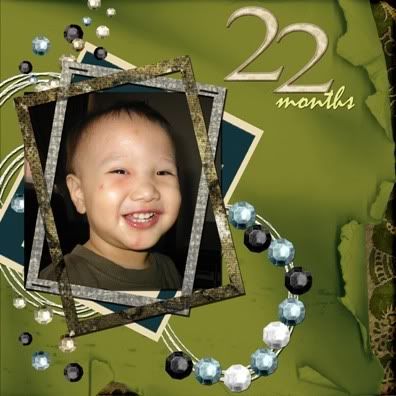 Scrap Credits
Holiday Inn freebie from ScissorlessMedia
Moody Kit from SweetMade
Harvest Spice Numbers from Shabby Princess
Weight
Should be still around 11-11.5 kilos because he lost some weight during his Rotavirus infection last month. He does feel heavier now anyways.
Height
Not much change from the previous month, I would think, so around 83cm.
Teeth
Twelve in total. I know I mentioned earlier that he had 4 pramolars appearing, but it looks like I was wrong! He now has eight incisors, two HUGE pramolars on the bottom jaw and two canines on the upper!
Motor Skills
When the music from the Barclay's Premiership Show starts playing on the TV, Ethan will kick one foot in the air repeatedly.  We do not know if he is merely enjoying the music or if, in fact, he is simulating the act of kicking a football.
Ethan has mastered the *art* of throwing blocks over his shoulder.
He can place almost all his shapes correctly in his shape sorter.  He definitely can master the simple shapes like the circle, square, star, flower, triangle and cross.  The tricky shapes in his round shape-sorter like the heart, the "T" or the house-shaped block will sometimes make him frustrated.  Typically he will identify the color of the shape first and then try to fit them into the correct slot.
He loves to play and pretend to draw and write with a pen or pencil.  Up till today, we still cannot tell for sure if he is a rightie or leftie.  Maybe he is ambidextrous?
Communication and Social Skills
"Speaking" more with the use of gestures as well.  Ethan especially loves to use both his index fingers to accentuate his "speech".  Luckily it is the index finger he is using 😛
Once, when he was watching the "Meet the Orchestra" Baby Einstein DVD, I heard him repeat the word "Bass" after the instructor.
Consistently says "sssss…" when we drive along a particular stretch on Yeap Chor Ee road, when we drive up the ramp towards the coastal highway and sometimes when we approach Queensbay Mall.  We do not know yet if he is referring to "ssssslope", "treesssssss" or "Queenssssssbay". 
Can understand simple instructions like "clap hands", "come here", "come" and also "kai kai".  Will get upset when we raise our voice and say "NO" in a stern tone.
Food and Feeding
Also known as our very own bottomless pit, he can finish quite a lot of food now.  When we go out, we sometimes have to order enough to feed three.  Ethan can finish about one small bowlful of rice on his own.  He also loves to eat with his hands.