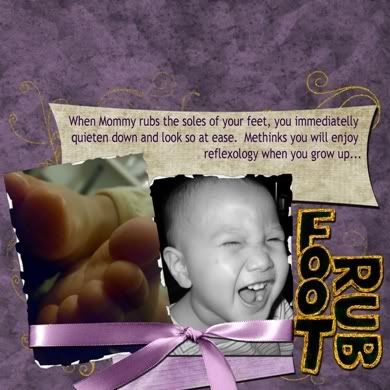 Scrap Credits
Template 30 from Jill & Jack ScrapDesigns
Purple Rain papers from SJ Wright Creations
Flergs purple ribbon from Scraphead
Silver glitter Alpha green from Heddes Mama
Do you know what I do when Ethan starts getting restless in his car seat and starts throwing a big fuss?  Why, I simply reach my hand to the back, I grab hold of his little feet and I give him a foot rub!
Do you know what I do when he doesn't want to sit still when I change him?  I hold both his feet in my hands and rub them!
Yes, our little boy has started to enjoy the little things in life.  Taking the cue from his Daddy, Ethan too enjoys a foot rub every now and then.  Miraculously, a soothing foot rub quietens him down almost immediately and he looks at perfect ease!
Please tell me I won't have to book a spa appointment for him next! 😛